Eight fun reads down! 34 of 52. 18 more to go until my goal at the end of the year. I might not make it due to the fact that this time of the year is crazy busy. But I have discovered so many amazing authors this year and I look forward to discovering many more.
The Sleeping Beauty Killer by Mary Higgins Clark ⭐⭐⭐⭐
Goodreads synopsis:
The third thrilling installment in the bestselling Under Suspicion series from #1 New York Times bestselling author and "Queen of Suspense" Mary Higgins Clark and Alafair Burke—television producer Laurie Moran puts everything on the line to help a woman she thinks was wrongfully convicted of murder.
Casey Carter was convicted of murdering her fiancé—famed philanthropist Hunter Raleigh III—fifteen years ago. And Casey claims—has always claimed—she's innocent. Although she was charged and served out her sentence in prison, she is still living "under suspicion." She hears whispers at the grocery store. She can't get a job. Even her own mother treats her like she's guilty. Her story attracts the attention of Laurie Moran and the Under Suspicion news team—it's Casey's last chance to finally clear her name, and Laurie pledges to exonerate her.
With Alex Buckley taking a break from the show—cooling his potential romance with Laurie—Under Suspicion introduces a new on-air host named Ryan Nichols, a young legal whiz with a Harvard Law degree, Supreme Court clerkship, experience as a federal prosecutor, and regular stints on the cable news circuit. He's got a big reputation and the attitude to match it. Ryan has no problems with steering—and stealing—the show, and even tries to stop Laurie from taking on Casey's case because he's so certain she's guilty.
An egomaniacal new co-host, a relentless gossip columnist who seems to have all the dirt (and a surprising informant), and Casey's longstanding bad reputation: Laurie must face this and more to do what she believes is right, to once and for all prove Casey's innocence—that is, if she's innocent… The Sleeping Beauty Killer will keep you guessing until the very end.
The Woman Who Couldn't Scream by Christina Dobb ⭐⭐⭐
Goodreads synopsis:
From the New York Times bestselling author comes the fourth novel of suspense taking place in Virtue Falls, Washington.
Beautiful Merida is married to a wealthy older man who takes her around the world as his trophy. Merida is everything a man could want. But a traumatic accident years before left her without the ability to speak. When her husband dies, she knows it's her chance to exact revenge on those responsible for her accident—and that vengeance begins in Virtue Falls. Reinventing herself, she slips into village life, biding her time. But someone knows exactly who she is and will use this chance to finish what was started years ago. And this time an accident for Merida will mean silencing her forever.
The Blackest Crimson by Debbie Webb ⭐⭐⭐⭐⭐
Goodreads synopsis:
Detective Bobbie Gentry was psyched when she was offered the opportunity to work with the FBI on a special task force in the search for a heinous serial killer known as the Storyteller. What she didn't expect was for the serial killer to follow her home on Christmas Eve...
The Storyteller couldn't resist Bobbie no matter the risk. He murdered her husband and would have murdered her child but the little boy got away. Now Bobbie's fight for survival might just be more than he bargained for...
One of them must die.
The Blackest Crimson is the prequel to No Darker Place, the first in the stunning Shades of Death series!
Craving by Helen Hardt ⭐⭐⭐⭐
Goodreads synopsis:
After being left at the altar, Jade Roberts seeks solace at her best friend's ranch on the Colorado western slope. Her humiliation still ripe, she doesn't expect to be attracted to her friend's reticent brother, but when the gorgeous cowboy kisses her, all bets are off.
Talon Steel is broken. Having never fully healed from a horrific childhood trauma, he simply exists, taking from women what is offered and giving nothing in return...until Jade Roberts catapults into his life. She is beautiful, sweet, and giving, and his desire for her becomes a craving he fears he'll never be able to satisfy.
Passion sizzles between the two lovers...but long-buried secrets haunt them both and may eventually tear them apart.
A Snow Country Christmas by Linda miller ⭐⭐⭐⭐
Goodreads synopsis:
It's a Christmas affair to remember as a Hollywood mogul discovers his inner cowboy—and the woman of his dreams—amid the rugged beauty of Wyoming.
Raine McCall would take snow-covered mountains over a star-studded premiere any day. But when hotshot movie executive Mick Branson arranges dinner on Christmas Eve to discuss a work opportunity, she's intrigued—by the offer and the man. She's a no-makeup, no-frills single mom, who's happy with her quiet life. Sharing chili cheeseburgers and sizzling kisses with Mick is sure heating up her holiday, but country girl and power player don't mix…
It's not just work that's brought Mick back to Mustang Creek. Since he first visited to oversee a documentary, free-spirited graphic designer Raine has been in his head. Her approach to life is as unconventional as her quirky holiday ornaments. Their attraction is undeniable—and so are their differences. Putting down roots in the Wild West wasn't in the script. But there are some Christmas gifts you can't walk away from, even when they turn your whole world upside down…
The Lightning Thief ⭐⭐⭐⭐
Goodreads synopsis:
Percy Jackson is a good kid, but he can't seem to focus on his schoolwork or control his temper. And lately, being away at boarding school is only getting worse—Percy could have sworn his pre-algebra teacher turned into a monster and tried to kill him. When Percy's mom finds out, she knows it's time that he knew the truth about where he came from, and that he go to the one place he'll be safe. She sends Percy to Camp Half Blood, a summer camp for demigods (on Long Island), where he learns that the father he never knew is Poseidon, God of the Sea. Soon a mystery unfolds and together with his friends—one a satyr and the other the demigod daughter of Athena—Percy sets out on a quest across the United States to reach the gates of the Underworld (located in a recording studio in Hollywood) and prevent a catastrophic war between the gods.
Gill's All Night Diner ⭐⭐⭐⭐⭐
Goodreads synopsis:
Bloodier than Fried Green Tomatoes!
Funnier than The Texas Chainsaw Massacre!
Welcome to Gil's All Night Diner, where zombie attacks are a regular occurrence and you never know what might be lurking in the freezer . . .
Duke and Earl are just passing through Rockwood county in their pick-up truck when they stop at the Diner for a quick bite to eat. They aren't planning to stick around-until Loretta, the eatery's owner, offers them $100 to take care of her zombie problem. Given that Duke is a werewolf and Earl's a vampire, this looks right up their alley.
But the shambling dead are just the tip of a particularly spiky iceberg. Seems someone's out to drive Loretta from the Diner, and more than willing to raise a little Hell on Earth if that's what it takes. Before Duke and Earl get to the bottom of the Diner's troubles, they'll run into such otherworldly complications as undead cattle, an amorous ghost, a jailbait sorceress, and the terrifying occult power of pig-latin.
And maybe--just maybe--the End of the World, too.
Gory, sexy, and flat-out hilarious, Gil's All Fright Diner will tickle your funnybone--before ripping it out of its socket!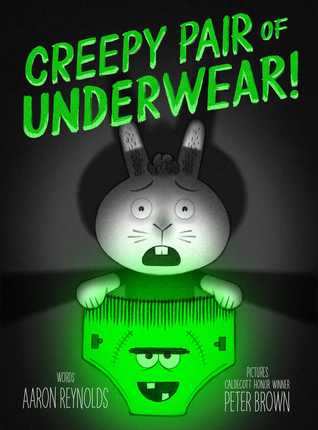 Creepy Pair of Underwear ⭐⭐⭐⭐⭐
Goodreads synopsis:
Jasper Rabbit is NOT a little bunny anymore. He's not afraid of the dark, and he's definitely not afraid of something as silly as underwear. But when the lights go out, suddenly his new big rabbit underwear glows in the dark. A ghoulish, greenish glow. If Jasper didn't know any better he'd say his undies were a little, well, creepy. Jasper's not scared obviously, he's just done with creepy underwear. But after trying everything to get rid of them, they keep coming back!