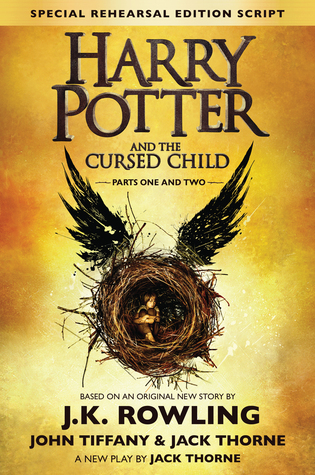 Harry Potter and the Cursed Child
Based on an original new story by J.K. Rowling, Jack Thorne and John Tiffany, a new play by Jack Thorne, Harry Potter and the Cursed Child is the eighth story in the Harry Potter series and the first official Harry Potter story to be presented on stage. The play will receive its world premiere in London's West End on July 30, 2016.
It was always difficult being Harry Potter and it isn't much easier now that he is an overworked employee of the Ministry of Magic, a husband and father of three school-age children.
While Harry grapples with a past that refuses to stay where it belongs, his youngest son Albus must struggle with the weight of a family legacy he never wanted. As past and present fuse ominously, both father and son learn the uncomfortable truth: sometimes, darkness comes from unexpected places.
Descendants (Disney version) Junior Novel
Mal, Evie, Jay, and Carlos are the offspring of some of the most terrible villains of all time. They're offered a chance to leave the Isle of the Lost, where they have been imprisoned all their lives, and go to prep school in the idyllic kingdom of Auradon with all of the "good" kids. There, they must choose whether or not to follow in their parents' evil footsteps. Watch out Auradon--here come the Descendants!
A fast pace, fun read for young readers.



Nancy Drew Books!




Nancy Drew Book 6 Mystery at Red Gate Farm (

My rating 5 stars

)


When Bess Marvin purchased an expensive bottle of Oriental perfume, she never expected to stumble into a mystery. Now Bess, Nancy, George, and their new friend Jo are out to unravel the secrets of a mysterious conspiracy, a secretive cult, and a ring of counterfeiters in The Secret of Red Gate Farm.

Nancy Drew Book 7 Clue in a Diary (

My rating 5 stars

)

Nancy uses a lost diary to exonerate an innocent prisoner.

Nancy Drew Book 8 Nancy's Mysterious Letter (

My Rating 4 Stars

)

Nancy receives a letter informing her that she is heir to a fortune. This story tells of her search for another Nancy Drew.

If there was ever a book where I think Nancy would have been killed in the ones I have read I think this one is at the top of the list. She is nearly run over and knocked out. If the man scheming against her was a little more cruel he would have done away with Nancy long ago. Girl, you are dso lucky you are a fictional character. :D

I'm impressed that I got to read this much with how busy things have been. I will write about that later, but for now, this has been my list of reads for the month of August. What did you read in August?

-Brenda Franklin, author of The Pulse Trilogy.