I ready 49 of 52 books in 2014. Here are my top picks!
Derek just found out that the natural disasters he's seen tearing up the world are not just random earthquakes and monsoons. They are the result of a dragon, hellbent on destroying the world as it lusts for the one thing it wants the most; the illuminating book that Derek just picked up in a parking lot off of a talking cat. Failing high school is the least of Derek's problems now, for the book has chosen him as its champion, destined to face the bloodthirsty dragon in a duel for the fate of the world. DEREK AGONS SLAYS A DRAGON is Young Adult Fantasy novel about the absurd journey of a high school junior who gets crossed and double crossed as he traverses modern day America in search of the beast. Accompanied by a furiously curious talking cat, Derek soon uncovers a hidden world deep within his own that is filled with books that glow with desire, an ancient order of talking animals clinging desperately to the past, and a mysterious girl who keeps the world turning. All of that, of course, plus the evil dragon Derek must slay to keep the world from ending.
#9: Twice as Hot
Belle Jamison is finally starting to feel like a normal girl again. Her job as a paranormal investigator is going well, she's learned to control her supernatural abilities (mostly) and she's just gotten engaged to Rome Masters, the ultra-sexy operative who once tried to neutralize her!
But planning a wedding is never easy, especially when the bride keeps accidentally torching her dress, the groom returns from a dangerous mission with selective memory loss and the man responsible now wants Belle for himself. With Rome's ex determined to win him back and a new band of supervillains on the horizon, it will take all Belle's powers—plus a little help from her trusty empath sidekick—to save the day, salvage the wedding and prove that true love really does conquer all.
GhostWalker Jack Norton is a genetically enhanced telepathic sniper on a mission to rescue his brother in the jungles of the Congo. Then he meets Briony, a beautiful rebel on a mission of her own - and hiding secrets that a shadowy enemy would kill to discover.
#7:
Suddenly Supernatural series
In the tradition of the loveable but flawed heroines from Louise Rennison's Georgia Nicholson Books, Kathleen O'Dell's Agnes Parker novels, and Lois Lowry's Anastasia Krupnik books comes Elizabeth Cody Kimmel's Kat Roberts. All Kat wants is to be normal, or at least to look that way to students at her new school. But her mother is a medium, and not the kind that fits in between small and large; Kat's mom is the kind of medium who sees spirits and communicates with them. And, even worse, Kat has just discovered that she can see spirits too. In fact, she seems to be the only one capable of helping a spirit at her school cross over successfully. The question is can she do it without needing to switch schools herself?
In this the first of three SUDDENLY SUPERNATURAL books, Elizabeth Cody Kimmel brings humor, heart, and a little supernatural charm to the trials and tribulations of finding out who you are and who you want to be--all while surviving the seventh grade.
#6:
Tall, Dark, and hungry
It bites: New York hotels cost an arm and a leg, and Terri has flown from England to help plan her cousin's wedding. The new in-laws offered lodging. But they're a weird bunch -- and it isn't just that they're Canadian! There is the sometimes-chipper-sometimes-silent Lucern, and the wacky stage-actor Vincent: she can't imagine Broadway casting a hungrier singing-and-dancing Dracula. And then there is Bastien. Just looking into his eyes, Terri has to admit she's falling for someone even taller, darker, and hungrier. She's feeling a mite peckish herself. And if she stays with him, those bloodsucking hotel owners won't get her!
#5:
Love Undone
What would you do if all your memories were gone? One day Kassie wakes up and realizes that her life is nothing but an endless emptiness… One tragic incident takes away everything that she has ever cherished and loved: family, friends and all the best moments that she ever lived through. Now everything seems unknown, including a beautiful stranger, whose mere look makes her heart beat faster. Who is that reckless and mysterious man? Is he just an old friend or an enemy? Sinking into the vortex of indescribable emotions, they will give in to the most irresistible temptation ever, just to fall in love with each other, again and again.
#4:
Immortal Ever After
New York Times bestselling author Lynsay Sands delivers a wickedly fun Argeneau novel featuring a vampire ready to claim his mate and the beauty who resists her fate!
A kiss doesn't mean eternity . . .
Valerie Moyer doesn't believe in vampires—until she is kidnapped by a fanged psychopath! After escaping her bloodthirsty captor, she's through with creatures of the night. Until she finds herself under the protection of the darkly handsome Anders. Not only is she expected to accept that Anders is immortal, but also that she is the woman destined to be his life mate!
. . . Or does it?
Anders felt a connection to Valerie from the moment he cradled her bruised body in his arms. But before he claims her, he must destroy the vampire who almost stole her from him forever. His job would be easier if Valerie didn't fight him every step of the way. Still, Anders loves a challenge, and the green-eyed beauty is worth fighting for!
#3:
Once Bitten, Twice Shy
I'm Jaz Parks. My boss is Vayl, born in Romania in 1744. Died there too, at the hand of his vampire wife, Liliana. But that's ancient history. For the moment Vayl works for the C.I.A. doing what he does best--assassination. And I help. You could say I'm an Assistant Assassin. But then I'd have to kick your ass.
Our current assignment seemed easy. Get close to a Miami plastic surgeon named Assan, a charmer with ties to terrorism that run deeper than a buried body. Find out what he's meeting with that can help him and his comrades bring America to her knees. And then close his beady little eyes forever. Why is it that nothing's ever as easy as it seems?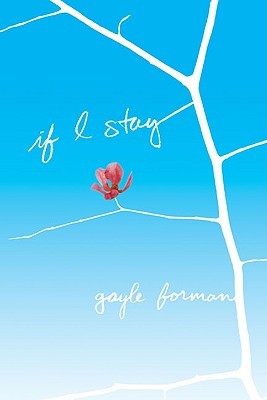 #2:
If I Stay
Just listen, Adam says with a voice that sounds like shrapnel.
I open my eyes wide now.
I sit up as much as I can.
And I listen.
Stay, he says.
Choices. Seventeen-year-old Mia is faced with some tough ones: Stay true to her first love—music—even if it means losing her boyfriend and leaving her family and friends behind?
Then one February morning Mia goes for a drive with her family, and in an instant, everything changes. Suddenly, all the choices are gone, except one. And it's the only one that matters.
If I Stay is a heartachingly beautiful book about the power of love, the true meaning of family, and the choices we all make.
#1:
Warm Bodies
'R' is a zombie. He has no name, no memories and no pulse, but he has dreams. He is a little different from his fellow Dead.
Amongst the ruins of an abandoned city, R meets a girl. Her name is Julie and she is the opposite of everything he knows - warm and bright and very much alive, she is a blast of colour in a dreary grey landscape. For reasons he can't understand, R chooses to save Julie instead of eating her, and a tense yet strangely tender relationship begins.
This has never happened before. It breaks the rules and defies logic, but R is no longer content with life in the grave. He wants to breathe again, he wants to live, and Julie wants to help him. But their grim, rotting world won't be changed without a fight..
---------------------------------------
Book 2: Barely Beating
Book 1: A Steady Pulse
Brenda Franklin
Purchase my products from the links below
The Pulse Trilogy
Flat Line
Amazon
,
Smashwords
, and
Barnes and Noble
Book 3: Flat Line
Guardian, a Fated Pairing
Guardian, A Fated Pairing
(Paranormal Romance)
Amazon
,
Smashwords
, and
Barnes and Noble